NOTE: I wanted to take a moment away from producing my regular travel content to speak about something that is really important to me. If there is one thing in this world that absolutely breaks my heart, it is domestic violence. Far too many women and children in this world are victims of this ugly scourge and it recently cost the life of a rising star in the travel blogging community. I wanted to take a moment to share my Gabby Petito tribute and to raise more awareness about the issue of domestic violence. We have to all be part of the solution.
I didn't know Gabby Petito personally, but after reading about her these past few weeks and looking thru her Instagram and Youtube posts, I know that the world has lost a wonderful soul and someone whom I would consider a kindred spirit. While the loss of any person as young and full of life as Gabby is tragic, her loss seems to have hit me especially hard for a number of reasons.
While I am much older than she was, I can relate to her dreams and aspirations to explore the world and share her experiences with others. I am also very fond of the American Southwest and have spent a considerable amount of time in my younger years exploring this region of the United States, just as Gabby was. It is an area of such incredible beauty that will now be stained in my memory by this senseless and horrific tragedy. I am going to be back in Southern Utah in a few weeks, and all I can think about is all of the dreams that she had that will go unfulfilled and the pain that her family must be in right now.
Background
If you aren't familiar with the Gabby Petito missing person case and death, here is a little background. She was an aspiring travel blogger and travel influencer who was traveling cross country with her boyfriend (and ex-fiancé) from New York to Oregon in a van that she proudly converted into a camper. They made stops in Monument Rocks in Kansas, Great Sand Dunes National Park in Colorado, and several stops at national parks and areas of interest in Southern Utah before heading to Grand Teton National Park in Wyoming . It was here where she was last seen and heard from near the end of August. On September 1, her boyfriend inexplicably returned to Florida in Gabby's van without her.
It wasn't until after many days and many failed attempts to contact Gabby and her boyfriend that her parents realized Gabby's boyfriend was back in Florida without Gabby. They filed a missing person report on September 11, which initiated a large search for Gabby. This ultimately ended in tragedy with the discovery of her body in a remote campground in the Grand Teton National Park area on September 19. Today, those remains were confirmed to be Gabby's. Her boyfriend has since gone missing and the world is left with lots of questions and lots of grief after such a tragic loss. If you would like know more about the story, here is a timeline from Foxnews.com with more details on her disappearance: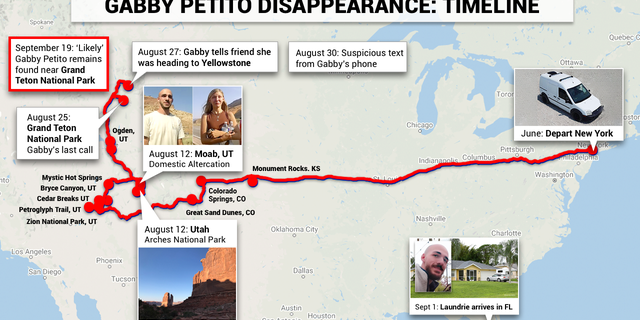 Back to Gabby
There were a lot of things that bothered me about her disappearance and death. I really wish we could get to a point in this world where women did not have to live in fear of domestic violence. It absolutely broke my heart to see the body cam video of Gabby with the police in Moab, Utah in mid August. Her fear and frustration was a stark contrast to the smiling pictures of her that you see in her social media posts.
It is gut wrenching to see what she was going thru, all because of the insecurities of a man that was supposed to be her partner and protector. None of us are perfect, and couples are going to argue, but to be physically and mentally abusive to another person is horrible. I can't stand to watch it or think about it, but I am glad that we are forced to confront it and I hope we can find a way to get help to women like Gabby before it is too late.
Not only was he physically abusive towards her, but he stomped all over her dreams and aspirations as well. What really hit me the hardest was when she said her boyfriend (or ex-fiancé) doesn't believe she can make it as a travel influencer. That he was always such a "downer". What the Hell does he know? Has he put himself out there and tried it? Why was he so threatened by her wanting to pursue a dream and a passion? Even if he didn't share the passion, why put her down for it? If he really loved her, he would have been proud of her for chasing her dreams.
I know what it feels like to have a passion for something that burns bright, but have people in your life who try to discourage you from pursuing that passion. Every comment of doubt that I have received from acquaintances, even the indirect ones, about the time, energy, and money that I have put into my passion for traveling and travel blogging have felt like a personal invalidation of who I am. I won't lie, it sometimes hurts.
I am lucky to have family, including my wife, who have been nothing but supportive of me in pursuing my passions. I know that my sometimes obsessive focus on travel can be a strain, but they know that it is important to me and it is who I am. They accept me for who I am. They might not understand or agree with me, but the accept me. For that, I am forever grateful. I just wish that the person who was supposed to care for Gabby the most had even an ounce of that understanding and showed her even a fraction of that support. She was really good at what she did, and you could see that it made her so happy. Isn't that what is important?
I just wanted to take a moment today to share my feelings on this tragedy and let the world know that I really appreciated what Gabby was trying to achieve. I think she was an authentic voice that would have encouraged so many others to get "off the wifi" as she always put it, and get out and explore the world. I hope that there are many more Gabby Petitos that follow in her footsteps and go out and follow their dreams. And when they do, I sincerely hope that they have the love and support that they need to follow those dreams. Gabby deserved that. So do all of the other young people who are following their dreams.
You will not be forgotten Gabby. You are already missed. And you certainly did touch this world.
Don't Forget to Subscribe to My Adventures!
Join 6,460 other subscribers
Please follow along with our adventures:
Categories: Journal Entries